What You Need To Know Before Filing an Insurance Claim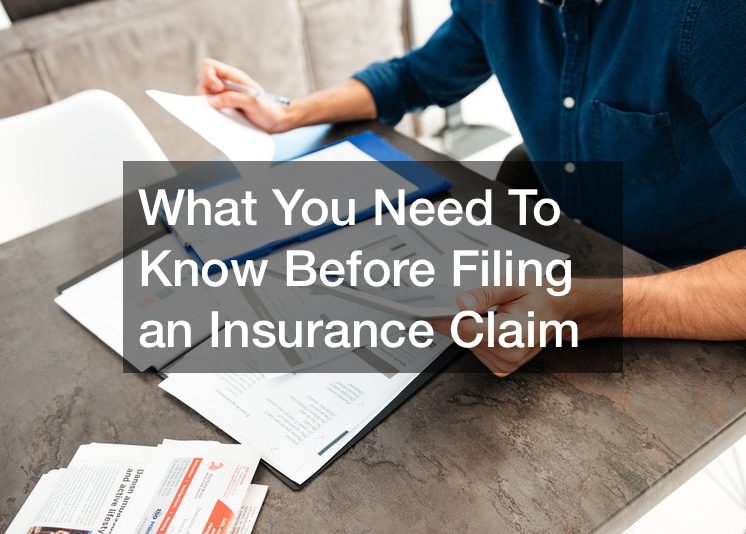 Accidents and disasters lead to loss and after that, the only thing you want is to be compensated and move on. However, that is easier said than done, as there are different types of claims in general insurance.
Here is what you need to know as far as filing an insurance claim.
The First Payment is Not the Only One
In most types of claims in general insurance, there will be an adjuster whose work is to examine the damage caused to your property or business so that they can offer a certain amount of money for repairs. What this means is that the first sum of money you get from an insurer is usually an advance against the final settlement amount and not the only or last amount you will get. In case you are offered a settlement check on the spot, you can accept it and file another claim if you find other damages. Often, policies will require you to file a claim within a year from the date of damage. That said, you would want to check your state's insurance department as far as the laws that govern your area.
You are Likely to Get More than One Check
If both your personal belongings and the structure of your home are damaged in a disaster, you will typically get two different checks from your insurer with each one being for each kind of damage. As you can see, there are different types of claims in general insurance.
Besides, you will get an Additional Living Expenses (ALE) check if your home is uninhabitable. The same check will be given to you in case you cannot be present and living in your home while it is under repair.
Your Management Company or Lender May or May not Have Control Over your Compensation
With a damaged house that is mortgaged, the check for repairs will be made out to both the mortgage lender and you. You also want to keep in mind that most mortgage lenders will require you to list them in your homeowner's policy making them party to compensation associated with the property under mortgage.
Insurance Companies pay Contractors Directly Sometimes
Since there are different types of claims in general insurance, it may interest you to know that some contractors will require you to sign a form that directs your insurance company to wire funds to them directly. Note that the form is a legal document that needs to be read and understood lest you assign your complete claim to the contractor.
If you're not certain about anything, it is great if you consult with your insurance agent before signing any document. The last thing you want is to give all the control regarding your insurance claim to a commercial roofing contractor or residential plumbers. The best course of action then would be to assess the work done by the contractor and confirm that it is perfect before you allow your insurance company to pay them. An ALE Check Belongs to only you
Granted, there are several types of claims in general insurance. Nevertheless, the additional living expenses check is not in any way associated with the repairs to your property. In that regard, you want to ensure that the check is made out to you and not along with your lender or solely to them. The check is supposed to cover your expenses like meals, car rentals, hotels, and all the other expenses you are likely to incur while you are away from your home as it is being fixed.
Your Belongings will be Valued in Cash
As there are different types of claims in general insurance, you want to have a home or business inventory. This will come in handy when it comes to submitting a list of whatever is damaged. Usually, the initial check you will get from your insurance company will have calculated the cash value of damaged belongings, which is essentially a depreciated amount based on how old the items are.
You may wonder why insurance companies would do this and the simple answer is that it is done to equal the outstanding claim payment to the exact additional cost. Therefore, if you opt not to replace an item, the insurance company will pay the depreciated cash value for it. In this case, it would be best to rely on multifamily loans instead of compensation.
You Must Replace Items if you want to Get Replacement Value
With the types of claims in general insurance, you will be required to purchase replacements by most insurance companies. To that effect, you want to be ready with receipts proving that you have replaced items. Once they confirm, they will pay the difference between the entire cost of the replacement and the cash value you had received earlier. If you are running a business, your capability statement will come in handy here. In the event of a total loss, where nothing can be repaired, insurance companies generally pay policy limits in compliance with state laws. As such, you may receive a check for what your property was insured for before damage.
Mistakes to Avoid When Filing Insurance Claims
When it comes to the different types of claims in general insurance, you are likely to make mistakes that could violate your policy's conditions and ultimately cost you your compensation. Here then, are some of the things you need to avoid as far as filing insurance claims.
Not Reading and Understanding your Policy
To safeguard yourself from suffering losses regardless of the types of claims in general insurance you want to make, you must understand what your policy covers and does not cover. Failure to read and understand your policy may have you suffering the effects of things like bankruptcy chapter 7 and that could be detrimental to you.
In that regard, you want to read the entire document as well as all the documents. Now the policy document may be hard to understand, so you may want to get your lawyer to interpret it for you. Imagine expecting your insurance company to cover something like a septic tank installation when it clearly states in their policy that they won't do it.
You will only be setting yourself up for failure and disappointment.
Failing to Report Damage to Your Insurer Promptly
In the event of loss or an accident that you know is covered by your insurance policy, it would be in your best interest to let the insurance company know as soon as possible. This is because insurance claims are easier to adjust with fresh evidence. Besides, a late report may have your insurer questioning the severity of the damage or injury you are claiming compensation for. This comes with a lot of complications because then, you may have to hire an injury lawyer to plead your case in court.
Most insurance companies also require you to issue a timely notice regarding damages or losses. You may also want to note that most insurance companies may deny you compensation claiming that you breached an insurance contract.
Failing to Keep Record
You need to keep your records well when it comes to the types of claims in general insurance because your insurance company will require you to provide detailed information so that you can get compensation.
Keep inventories of your belongings damaged and undamaged and be sure to include the value, cost, and quantity. An insurance company will also require you to provide proof of loss so you can substantiate your records with videos and photos. You also want to document whatever communication you have with the insurance company concerning your claim. Keep a list of the phone numbers you speak to as well as the time and dates of the call.
Not Cooperating With Your Insurer
Most business insurance policies require you to cooperate with the insurer when seeking compensation. For example, the ISO commercial property policy requires you to cooperate with your insurance company as far as the investigation and settlement of a claim.
Failing to provide the information that your insurance company needs to process your claim gives them ground to deny your claim and ultimately your compensation.
Not Retaining Damaged Property
Your first instinct would be to throw away things that have been damaged in case of an accident or disaster, but that could cost you in the long run. The wisest thing to do would be to leave everything as is until it has been inspected.
This is mostly because most property policies will require you to have whatever is damaged set aside for analysis. While at it, you may also want to protect covered property from more damage. Simply put, discarding damaged property only works to destroy valuable evidence needed to grant your compensation. A standard auto policy will have the same requirements in respect to inspection and protection of damaged property. Therefore, you should protect your car from further damage in case of an accident and allow the insurance provider to inspect the car as well as any records you may have in your possession, such as photos of an accident, to authenticate the loss.
Not Contacting the Police
As long as the law has been broken, the different types of claims in general insurance require you to report to the police if laws have been broken. Just as you would call the police when someone breaks into your home, you also need to call the authorities if your insurance-covered vehicle is stolen. Depending on which state you reside in, you may be required by the law to alert the police of an accident. Perhaps you do not know this, but a police report can benefit both you and your insurance company since it can be used to verify facts.
Paying Claims Out of Pocket
Imagine this. You hit someone's car on the road and end up damaging it or, worse still, injuring them. Would the best thing to do be to pay them so that they can get the car fixed or go to the hospital? The simple answer to that would be a resounding no. Why? First, because injuries that appear minor at the accident scene may turn out to be something that needs the attention of a foot and ankle specialist. Similarly, some injuries are not apparent immediately. To be on the safe side, you would want to file an insurance claim rather than pay out of pocket.
Note that if you do pay someone and then decide that you want to file a claim to recover the paid amount, you are likely to be denied coverage on grounds of violating policy conditions. That then leaves you dealing with lawsuits and traffic violation bail bonds, which is something you don't want for yourself.
Not Following Up With the Adjuster
Most people would assume that everything is good and easy as soon as they are done filing a claim because all that is left is to receive compensation, but nothing could be further from the truth. You want to track your claim and if days go by and you do not hear from the adjuster that assessed your damage, you can reach out to them to get a progress report.
Admitting Fault
Never admit fault when involved in an accident where property was damaged or someone was injured because the cause of the accident may not be what you think. Your insurance company will not appreciate it either as it would harm your defense. The goal here is to get compensation and that is not how to go about it.
It shouldn't be hard to file an insurance claim but that is usually the case because most people don't know the dos and don'ts. You may need a trust litigation attorney for your family inheritance disputes, but the rest you can do yourself.
---