What You Need About Different Kinds of Insurance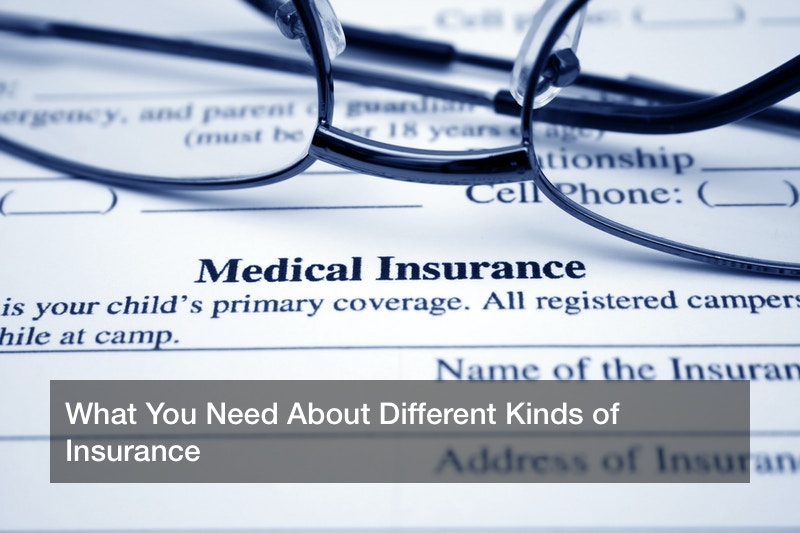 There are many different kinds of insurance but they all have one goal in mind. The different kinds of insurance are available to help protect you, and your finances.
Some of the different kinds of insurance available are purely voluntary. Other types of insurance are not voluntary, it is a must-have. Learning more about different kinds of insurance and their purpose can help you to make informed decisions about which insurance you need.
Must-Know Insurance Terms
Before reviewing the different kinds of insurance it is important that you have a basic knowledge of insurance terms. Here are some terms you should understand:
Premium – This is how much it will cost you for the insurance.
Policy – This is the document that outlines coverage, cost, and your responsibilities.
Deductible – This is the amount that you will have to pay before the insurance pays out.
Limits of Liability – This is the top tier that your insurance will cover. For example, your limit of liability on your auto insurance is $30,000, that means your insurance will pay out up to $30,000 in case of an accident.
The cost-share – This term is relevant to health insurance. It is your share of the cost.
Comprehensive insurance -This is full coverage insurance or the top tier of coverage. Comprehensive coverage, covers for the total loss.
Insurance claim – This is the process of filing a notice with the insurance company that you are claiming a covered event.
Loss-this is what you lost in the incident or what was damaged.
Insurance adjuster – This is the person that will make decisions about your claim.
Term-is the period of coverage.
Every type of insurance will include a deductible, a term, and a policy. These terms help you to get familiar with your insurance plan. It is important that any insurance plan is reviewed for the amount of money you are responsible for paying (deductible) how long the plan is in effect (the term) and how much you will pay for the policy (premium), at a minimum.
Why Is Insurance So Important?
The different kinds of insurance that are available can be viewed as a financial safety net. For example, homeowner's insurance provides coverage for your home in case a storm comes through and rips your roof off. A new roof could cost you upwards of $20,000 out of pocket without insurance. With insurance, you pay a deductible (which can vary) and the insurance company picks up the rest of the tab.
Without insurance accidents, incidents, even illnesses can be financially devastating and leave you bankrupt or unable to repair the damage. Insurance is not only a layer of financial protection it is also a layer of lifestyle protection.
Different kinds of insurance are made to provide protection for different areas of your life. Some types of insurance are required under state mandate or by a lender to not only protect your interest but to protect theirs as well.
Who Does Not Need to Worry About Insurance?
If you have enough money where money does not matter than you do not need to worry about insurance. If you can pay cash in case of an accident, or replace your roofing repairs after storm damage, pay cash to see a doctor and have enough money in the bank to cover any and all expenses, you do not have to worry about insurance.
Of course, the fact is very wealthy people are typically insured to the hilt. Why? Because they do not want to be in a vulnerable position if they are in a car accident or their home is damaged from fire or another covered incident. They do not want to have financial liability.
The fact is while there are some instances where you would not "need" insurance, you still likely would want insurance coverage. Insurance reduces the risk of being wiped out financially.
Different Kinds of Mandatory Insurance
Some of the different kinds of insurance are not an option, they are mandatory, either to be in compliance with the law or to be in compliance with your lender. For example, car insurance. In every state in the US, you have to have auto insurance to register your vehicle and legally drive it on the road. If you are financing your vehicle your finance company will likely require you to have full coverage insurance to protect their interest in your vehicle.
Auto insurance can come in really handy if you are ever in an accident, but that is not the only time it is a valuable asset. Let's say your garage doors fall off their hinges and land right on your car and bust your windshield and cause other damage.
If you have the right vehicle insurance, you pay your deductible, and they cover the cost of repairing your car windshield and body damage, and you get a like-new car back. Having this type of insurance can help to cut down on a lot of out of pocket costs.
Car insurance is not the only mandatory type of insurance. If you have a mortgage on your home, lenders typically require homeowner's insurance. Again, this is to protect both you and your mortgage company who has an interest in your property.
Typically, any time you finance anything, the finance company will require that the property that you are financing is insured. Whether it is a used car, an RV, a motorcycle, or a home, you will need to arrange for full coverage or comprehensive coverage insurance.
In some cases, a lender may require life insurance to be a part of the deal, to ensure that if anything happens to you, they get their money. Other mandatory insurance includes social security disability insurance. You are not given an option to have this payment withheld from your paycheck each week. We look at SSD insurance closer below.
The Social Safety Net Through Insurance
Every worker in the United States pays into the social security disability insurance program. The idea behind this mandatory program is that everyone chips in and pays their dues, and if a worker becomes disabled they will be able to draw a monthly payment from the program.
SSDI acts as a social safety net to ensure that injured or disabled workers can still have the money they need to live. Of course, the program is not without problems. Some disabled workers have had problems getting their claim for disability through the complex system and have had to hire social security disability lawyers to help.
Unfortunately, many filers have to go through the appeal process three or four times before they finally get their claim through with Social Security Disability. An insurance claim attorney can help to speed up the process.
In the same vein is the worker's compensation insurance. This insurance is typically paid by employers to protect workers while they are on the job. If you are injured on the job, workers' compensation will cover the costs of medical payments and provide a weekly payment, until you can get back to work.
Social safety net insurance is mandatory but it is an important protection for American workers. It helps to protect the people that cannot work due to disabilities and injuries.
Business Insurance
Business insurance is insurance that helps to protect your business from liability. It is required in many situations. For example, if you are bidding on a job, many times providing your insurance information is a requirement.
Business insurance helps to protect your business, the people that you are working for, and your employees. It legitimizes your business.
Elective Insurance Plans
Some kinds of insurance are not mandatory but it is strongly recommended that you have these types of insurance. Health insurance and life insurance are two prime examples of different kinds of insurance that no one can force you to have, but that you should absolutely have.
Health insurance provides coverage so that medical care can be affordable. Policies vary but typically you can expect coverage for:
Checkups
Diagnostic testing
Hospitalization
Health insurance is vital to ensure that you are protected against large medical bills. Not having health insurance is a real risk to your health and to your financial security. More people file bankruptcy because of medical bills than any other reason.
Life insurance is another type of insurance that you are not required to have but it is something you should have. Life insurance pays a benefit to your beneficiaries should something happen to you. It is very important to have this type of coverage if you have a family with dependent children.
Dental insurance is another type of insurance that you are not required to have, but you should. This type of insurance comes in really handy when you or a family member needs extensive or intense types of dental care. Braces, for instance, can be covered under this type of insurance. While dental insurance typically does not pay out 100% for care, it will usually pay about 50% for things like braces, dentures, bridges, and other work. In some cases, dental insurance will pay 100% for things like exams, x-rays, cleaning, sealants, and other diagnostic and preventive treatments.
Vision insurance is another optional insurance. It can cover things like exams, treatments, and make corrective lenses more affordable.
Not all optional types of insurance are for personal health, life, or care. There are optional plans to protect your property like whole-home insurance that includes coverage for major appliances. This type of insurance can help you save money if you ever need appliance repair. This type of policy is typically very affordable and can help ensure your major appliances are protected.
How The Insurance Process Works
Let's say that you are ready to buy some insurance, where do you start? The first thing you want to do when you are searching for insurance, and this is true of any of the different kinds of insurance, you want to compare plans.
Insurance plans can vary widely. Insurance carriers offer different coverage, different premiums, and different terms. Finding the right insurance for your needs means comparing your options. Here are some tips for comparing the different kinds of insurance and getting the best value:
Consider the cost. The lowest price plan does not necessarily deliver the best value. When you are comparing insurance plans do not compare strictly on price alone. You want to consider what the plan has to offer. For example, you are shopping for auto insurance. Plan A's premium is $50 lower than Plan B's premium, but plan B includes added value like free towing and a lower deductible for the same level of coverage. In this case, Plan B may be the better value.

Consider the amount of the deductible. Some plans seem to be less expensive because the deductible is higher. For example, Plan A comes with a $500 deductible, Plan B has a $1000 deductible. Why does this matter? Ask yourself this question, if I had to pay $1000 tomorrow for a covered service could I afford it?


Look for added value. The real value can be in the added value. For example, Plan A requires paper claims, Plan B has an easy to use app to file claims. Plan A has a rewards program if you do not have any claims for a set period of time, Plan B does not. Look for the added value when you are considering any of the different kinds of insurance.
Of course, you can always contact a certified insurance agent that can help you to navigate the process. If you feel overwhelmed or are new to insurance, it is a good idea to get some professional help. Insurance agents do not charge you a fee. The service is free and can be very helpful in educating you about your options and helping you to make an informed decision.
Once you have picked your plan, you pay for your plan, and in some cases, the coverage will become immediate. Luckily, most insurance premiums can be paid out over time in monthly installments. Paying your premiums over time can be really helpful to your budget.
Learning more about different kinds of insurance should help you to have decided which insurance you need to protect yourself, your home, your possessions, and your family.
---