X Common Insurance Claims Mistakes New Small Business Owners Make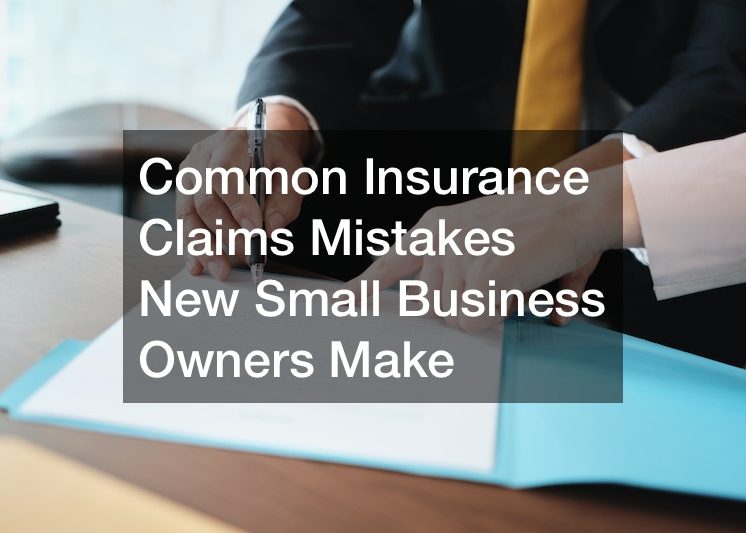 Small businesses are prone to experiencing different types of risks. Among them are equipment failure, employee injury, and natural disasters. Business owners must ensure they take the right steps when such risks occur. While doing so, they can often be tripped up and make errors that could prove very costly in the long run. Here are some common insurance claims mistakes new small business owners could face.

Unfamiliarity With The Policy
Many new business owners may not completely understand their insurance policies. Such is a common case because the business owners may not have read their policies thoroughly when they were issued.
As a result, even if they face an unexpected situation where they need to file a claim, they may not be fully aware of how to do it. The new small business owners could submit the claim, but it may be wrong or incomplete. It is important for small business owners to understand their coverage and who can help them in terms of filing claims whenever necessary, whether through an insurance agent or another representative.
Business owners should understand all the policy details when applying for insurance coverage before committing to pay. Some policies might not cover natural disasters or other types of disasters. In such a case, the business owner assumes that every aspect of the business is covered. Whenever a disaster occurs, they realize that it is not covered by the insurance policy they choose. Such could result in huge losses for the business and, in some cases, business closure.
Therefore, new small business owners should understand all the details of an insurance policy. Such details would help them identify the business gaps that need to be covered. For instance, if the insurance does not cover natural disasters, the business owner would seek an alternative for covering the specific disaster. Such would reduce their chances of losing their business to disasters.
Delays in Contacting the Insurer
Another mistake new small business owners could make is waiting to file a claim. They are recommended to contact their insurance agent or any other representative immediately after the disaster. Doing so will ensure that they take the right steps. Sometimes, it might be necessary to submit several claims, which could delay the insurance company's response.
For instance, if they could determine that an earthquake affected their business and damaged their property, it would be more beneficial to file a claim immediately. During this period, an individual's memory is fresh and can offer reliable details regarding the disaster. The damage is also visible, and the insurance agent can easily determine its extent.
If you delay filing the claim, the chances are high that you will not remember the exact details as they happened. In such a case, the insurance company might not compensate you adequately due to insufficient information. Most group benefit insurance services would send an agent to your business location to assess and document the damage. If you report later, the agent might not be assured whether the disaster caused the damage or whether foul play was involved. You should report the incidence within 48 hours after its occurrence. When you report later than this, the insurance company might deny the claim.
Most insurance companies require new small business owners to submit a report claim immediately after an incident occurs. The claims department of such companies will collect testimonials before sending out insurance adjusters to investigate damages. Suppose the business owner fails to submit the claim. In that case, the insurance company may not be able to investigate the incident and, consequently, will not be able to offer compensation due to the lack of evidence. The best thing to do is complete the report immediately after an incident occurs. In addition, you must provide detailed information such as timestamps, locations, and other important details necessary for investigation.

No Retention of Records
Small business owners should always keep their records in order. These records will help them establish the timeline of a claim so that they can prove to their insurance company that they have acted as soon as they have been informed of an incident since they can still provide details regarding the incident.
For instance, if an employee is injured due to an accident and files a claim, it would be important for the business owner to retain all information relating to the incident. They should include the date and time the incident occurred. Include who was present at the scene and the injuries sustained. Such details will help them establish a timeline of events and prove that they reported as soon as possible after being notified.
All these reasons demonstrate that you must always keep your insurance policies. You should also carry the contact details of your insurance agent or any other representative. Having insurance coverage is important for every business. However, this does not mean you should avoid taking the necessary steps to ensure that your coverage works for you and does not get in your way when a disaster occurs.
If you do not have the necessary documents when filing an insurance claim, the chances are high that the insurer will not grant you the claim. The insurance company needs proof that an event occurred in your company. For instance, a local roofer would need a license to prove that their company was involved in a disaster. Without the operating license, the insurance company might deny their claim. The most important thing is to ensure you document the incident as soon as possible and report the incidents immediately, no matter how small.
Failure to Document Damage
Another mistake small business owners make is not documenting the damage. If they fail to record the incident, it will be difficult for them to prove that they have been affected by an event and that they were not aware of this earlier. In such a case, their claim will be denied. For instance, canopy rental businesses can be highly affected by natural disasters when the canopies have been rented out for business. In such a case, the company owner needs to document what happened as proof to the insurance company. The insurance company would not offer compensation based on hearsay.
Whenever a disaster occurs, one should take as many pictures as possible. If possible, record the disaster as it takes place. If the disaster occurs at night, it is recommended that you photograph the damage in the morning for records. The insurance company might ask for details on the damage caused by specific disasters, which would be easy to prove with photos. Such information would help the insurance agent with the necessary investigation to ensure you get fair compensation.
If you are unsure how to document the damage caused by a disaster, a professional appraiser can help evaluate the business's current value. Such would be compared with its value before the damage to determine the amount needed to compensate.
When a disaster occurs, some people wait for hours or days before they can call the insurance company. In such a scenario, the insurance agent would need first-hand evidence regarding the occurrence of the disaster. Such information is necessary to ensure the client does not lie about the incident. The best way to offer these details is by presenting your collected evidence, such as videos and photos. The insurance company would be impressed with these details and offer fair compensation. It is, therefore, important to record the event as soon as possible to help you get insurance coverage. However, failing to document the events on time puts you at risk of not getting anything from the insurer.

Disposing of Damaged Goods
Eliminating damaged goods is one of the common mistakes that new small business owners. These individuals might not have been in the business world and, therefore, might not know what happens during a disaster. For instance, roofing contractors might get rid of damaged materials as they attempt to clean the building. When the insurance company comes to assess the damage, it would be impossible to determine the possible compensation due to the lack of evidence. The best thing to do is to leave the damaged items in their place. Such would help the insurance company appraise the damage caused by a disaster.
Business insurance, otherwise known as commercial liability, is a typical form of coverage that most small business owners are familiar with but do not fully understand. Commercial liability insurance is a form of business insurance that protects the business and its owners in the event of any negligence or accidental damages that occur due to their actions, be they intentional or not. Commercial liability insurance aims to protect from any legal repercussions that may fall upon an owner due to his or her actions. Therefore, evidence is crucial in ensuring insurance companies assist new small business owners accordingly.
Admitting Being at Fault
The main aim of insurance companies is to cover accidents. Accidents are occurrences that do not happen intentionally; even if they do, the business owner should not admit it was intentional. Insurance companies will look into the details of an occurrence to determine who is at fault. If a business owner admits responsibility, the insurance company will not offer compensation for the damage caused by the incident, especially in a tree removal company.
An example of companies at high risk of admitting fault is commercial cleaners. These companies operate with various materials, which could easily cause damage. For instance, leaving the water running can cause a lot of damage to the property. In such a case, they should not admit to having left the tap running because doing so would make them responsible for compensating for the damage caused. The insurance company should assess the damage and ascertain that it was an accident for the new small business owners to qualify for compensation.
A paving contractor is also prone to making this mistake due to the nature of their work and the materials they use in offering services. In worst-case scenarios, admitting that you were at fault could result in the insurance company terminating the policy. In such a scenario, the business owner will not be able to receive any form of compensation for their loss. It is, therefore, important to present evidence that the damage was caused by accident and not by negligence.

Failure to Advocate for Oneself
Many people do not understand how insurance works, making new small business owners under compensated during disasters. When a disaster or damage has occurred in your business, it is important to hire an adjuster to estimate the damage caused. If the adjuster was not covering a loss you are claiming; you should approach the company to ensure you get the coverage you are eligible for. If the insurance offers lower compensation than it should, you should not be afraid to complain.
Sometimes, your adjuster's value might differ from the insurance's. In such a case, it is important to hire a third party to evaluate the damage caused. The fact that you own a small business does not mean you should allow an insurance company to compensate you for what they feel is fair. Given that it is your business, you have a right to ask for what is fair because you have been paying premiums. Such would prevent your small business from collapsing. For instance, if you run a well drilling company and your equipment becomes a fault, unfair compensation from the insurance company could negatively affect the business. The money could not be enough to buy new equipment, which would affect your ability to keep the business running. The same applies to AC companies.
Avoiding the above scenarios would also guarantee you fair and timely compensation. New small business owners might not have enough money to cover the loss when underinsured. Therefore, it is important to understand what coverage your small business needs. Evidence is crucial in ensuring you get the compensation you are eligible for. As soon as the disaster occurs, document everything that leads to the damage to ensure you get fair compensation.
---