What Is a Home Insurance Quote? How Do I Choose a Policy?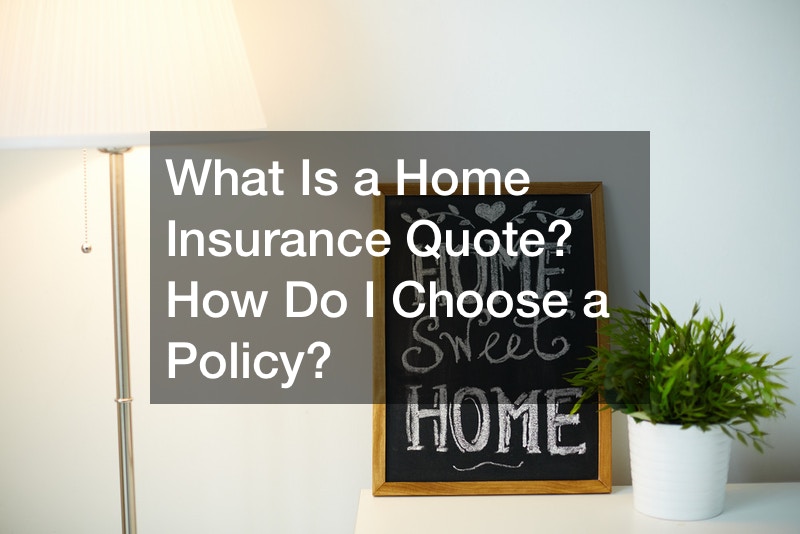 Homeowners insurance is the best way to protect your most valuable asset. It is customary not to think of storms, fire, or burglary until you need to. Whether it is damaged from a storm or theft of your jewelry, electronics, or other valuables, a homeowners insurance policy can help you recover from a financial setback.
Homeowners insurance protects you from various damages caused by fire, water, smoke, theft, vandalism, or some other event as outlined in the policy. If your home is damaged, your policy will cover the cost of repairing or replacing your home and personal property. For example, if the roof of your home is damaged in a windstorm, the policy will cover any roof repairs that are needed.
Many homeowner's insurance policies will cover outbuildings such as a garage or shed. The policy will also replace damaged or stolen personal property stored in your home. If a visitor is injured on your property, the policy will help pay medical and legal costs. Finally, the insurance company will pay for living expenses if you need to move out of your home because an event has made it uninhabitable.
But how do you choose the best homeowner's insurance company? You can shop around for the most affordable insurance companies to obtain the following information.
1. The company's financial stability
2. Evaluate customer satisfaction
3. Ask about multi-policy discounts; for example, bundle your homeowner's insurance policy with your auto insurance policy
4. Receive a quote
What is a home insurance quote? A homeowners insurance quote estimates the price you will pay for a policy based on a broad range of factors. The factors that will be considered are the size of the home, the neighborhood, the amount of coverage you desire, and other factors. Quotes are subject to change based on the information you provide at the time of the quote. The more realistic you are with information, the more accurate the quote will be.
Here is a more detailed description of how to choose a policy.
Decide what you want to include in the policy
A standard homeowners insurance policy will not cover valuable artwork, jewelry, or other collectibles. If you have a swimming pool, trampoline, or anything that increases risk because of potential injury or death to others, you may require additional coverage. If you live in a flood-prone area, you will need a separate policy for flood insurance coverage from your insurance carrier or a policy from the National Flood Insurance Program.
Similarly, if you live in an earthquake-prone area, you will require coverage for any damage related to an earthquake. You can find out if you need it by using the U.S. Geological fault map to determine how close you are to a fault line to help access your risk.
Determine how much coverage you need
Take an inventory of all your personal property. Keep receipts and file them away in a safe in the event of a fire. Use this information to determine how much coverage you require for your property. Get a quote from the insurance company of the average rebuilding costs in your area per square foot.
What is a home insurance quote? An estimate of the price you will pay for a policy on the limits you require. You need to determine how much you could spend on a hotel per night, meals out, and other living expenses incurred if your home becomes uninhabitable or destroyed after a loss. The Insurance Information Institute or a property insurance attorney can assist in the process.
Choose an insurance carrier
Choosing the proper homeowner's insurance company means that you need to find a provider that sells policies with the coverage and any additional features you may need at an affordable price. If you are unsure how to proceed with your choice, contact an insurance attorney who can advise precisely on what to look for when choosing an insurance provider. Look for a company that has an excellent financial standing, gets good professional reviews, and is available to file a claim or get customer service 24/7.
Choosing a policy
A correct homeowner's insurance policy will provide sufficient coverage, have understandable terms, have multi-policy discounts, or a discount if you have a fire protection system installed, etc. Consider the purchase of a replacement cost policy that reimburses for the replacement of new items rather than a cash value policy that pays only the depreciated value.
Receive a quote from a potential insurer of the prices you will pay for the policy. What is a home insurance quote? An estimate of what you will pay for a policy that includes HVAC replacement costs or other costs involved in rebuilding your property to its former and desired condition.
How to get the best price on a homeowner's insurance policy
Choose a policy that has an increased deductible.
A deductible is the amount you pay out-of-pocket toward a loss before your insurance company pays a claim. The higher deductible you choose, the less you will pay on the premium. Presently most insurance companies recommend a deductible of at least $500. If you can afford a deductible of $1,000, you can save as much as 25% on premium costs.
If you live in a disaster-prone region, your policy may have an additional deductible for certain kinds of damage. For example, if you live near the East coast, you may have a separate deductible for a windstorm. If you live in an area prone to hailstorms, you will have a separate deductible for hail. Earthquake-prone areas will also have a deductible separate from the basic homeowner's policy.
Don't forget a policy quote for the coverage you require. What is a home insurance quote? The price you could pay for the homeowner's insurance policy.
Make your home as disaster-resistant as possible.
Your insurance company representative or agent can tell you what steps are needed to make your home more resistant to natural disasters, such as windstorms. You may be able to save money on your premiums by adding storm shutters, roof reinforcement, or replacement with more substantial roofing materials, etc.
It is possible to retrofit an older home to enable it to withstand damage from an earthquake. Consider modernizing your heating, plumbing service, and electrical system to reduce the possibility of water or fire damage.
Increase your home security
Discounts of 5% are generally available for smoke detectors, dead-bolt locks, or burglar alarms. Some companies will reduce your premium by as much as 15 or 20% by installing a sophisticated sprinkler system or fire and burglar alarms that ring at the police, fire, or other monitoring stations.
These systems are not inexpensive, and not every system will qualify for a discount. Get a recommendation from your insurance carrier, then find out what the system costs and how much you will save by having it installed.
Search for other discounts
Not all companies offer the same discount at the same amount. But most companies will offer a discount of some type. For example, retired people typically stay at home more than working individuals; they are less likely to be burglarized and can detect fires sooner. The retired people also have more time to maintain their homes. If you are at least 55 years old and retired, you may qualify for a discount of up to 10% with some insurers.
Some employers and professional associations offer group insurance plans that offer better deals than are available elsewhere. Make sure you obtain a quote from them to determine what your premium would be. What is a home insurance quote? An estimated price of your premium for a specific set of coverages.
Maintain a good credit score
A solid credit history can reduce the cost of your insurance. More and more insurers are using credit information to determine homeowner's insurance prices. In most states, your carrier must advise you of any adverse action that results in a higher premium rate. It is at this time you should verify the accuracy of the information that the carrier is using to base their price.
To protect your credit standing, make sure you pay bills on time, do not obtain more credit than you need, and make sure you keep your credit balances as low as possible. Check your credit score regularly and ensure any errors you find are corrected promptly, so your record remains accurate.
Remain with the same insurer
Longevity with the same insurance provider may entitle you to a special discount for being a long-term customer. Some insurers will reduce their premium costs by 5% if you have been a customer with them for three to five years and by 10% if you remain a policyholder for six years or more.
Make sure you periodically compare your current insurer's prices by receiving a quote from other insurers. What is a home insurance quote? It is an estimate of what you will pay for a specific set of coverages. Ensure that when you compare coverages, you use the same criteria for comparison.
Review your policy's limits and re-evaluate your possessions yearly
The reason to do this is to ensure your policy covers any major purchases or additions to your home, such as patios, furnishings, etc. You do not want to spend money on coverages you do not require. If your five-year-old mink coat is no longer worth the $20,000 you paid for it, you may want to reduce or cancel the floater policy.
A floater policy insures items whose full value is not covered by a standard homeowner's policy—a floater policy would cover things such as expensive jewelry, silver pieces, high-end computers, valuable artwork, furs, etc.
If in a government plan, look for private insurance
If you have been buying your homeowner's insurance through a government plan and live in a high-risk area prone to storms, fires, or crime, check with an insurance agent or company representative for names of insurance companies that may be interested in your business. There may be steps you can take to purchase insurance at a lower rate in the private sector. Make sure you get the appropriate quotes.
What is a home insurance quote? If you qualify for a policy through a private carrier, it will be the price you will pay for that coverage.
When purchasing a home, consider the cost of homeowner's insurance
You may pay less for the policy if you purchase close to a fire hydrant or in an area with a professional rather than volunteer fire department. It may be cheaper if your home's electrical, plumbing and heating systems are less than ten years old. Consider a brick home if you live in the East because it is more wind resistant. Ensure that your policy will cover tree removal if you have a tree damaged in a windstorm.
If you live in an earthquake-prone area, choose a wooden frame house because it is more likely to withstand the damage. Choosing wisely can cut premiums by 5 to 15%. If you decide to buy a house in a flood-prone area, you will need to purchase a flood insurance policy that costs an average of $400 per year. Understand that the location you decide to live in makes a difference in the homeowner's insurance premium you will pay.
Let's recap. What is a home insurance quote? A homeowner's insurance policy quote is an estimate of the price you will pay for a policy with a specific set of coverages based on your needs.
Things such as the size of the home, location, neighborhood, condition of the mechanicals, roofing, age of the home, and security measures in place will determine the premium amount. If you decide to bundle coverages with the same insurer, for example, auto and home together will save you money. Choosing a higher deductible policy will also result in a lower monthly premium cost. If you can make your home as disaster-resistant as possible, it can help save you money.
Shop around for the best deal when deciding what insurance carrier to use. Wise decision-making can result in lower monthly premiums so that you can save that extra money for vacations or property enhancements.
---