What Insurance Do I Need to Start a Business?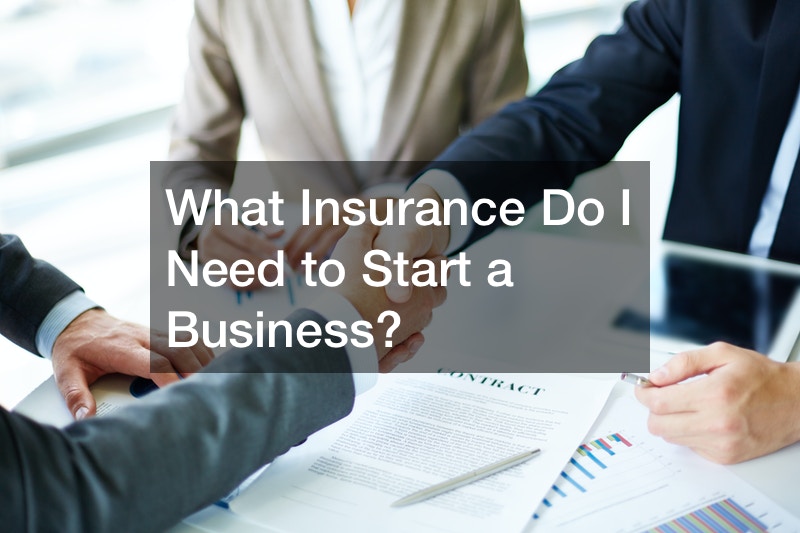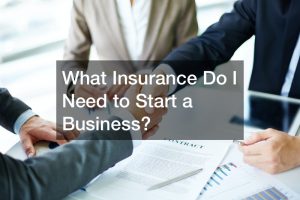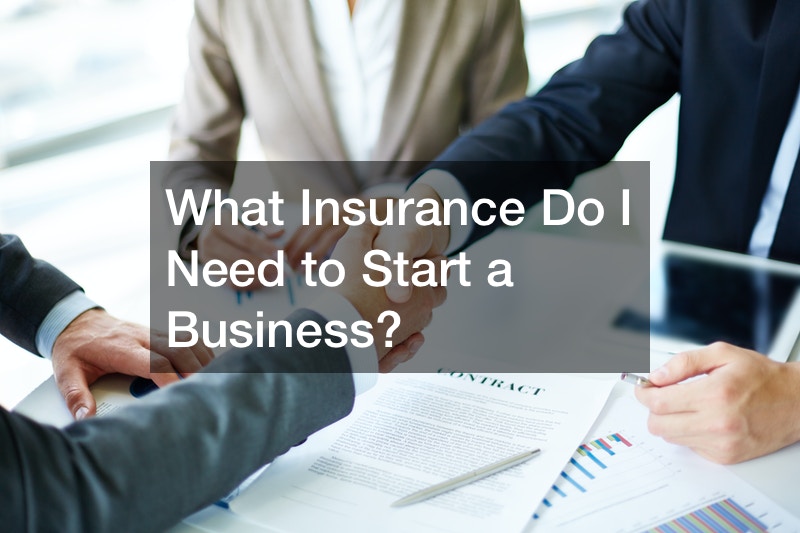 Starting a business can be a very big event in a person's life. Starting a business usually means that you become your own boss, answerable to no one but yourself.
But business formation is more than just filing your incorporation papers with the state. When you open a business you need to have a plan for starting and running your business.
One key part of running a business is protecting your business against the losses and casualties that it might experience. Bear in mind that this is not protection against the unexpected. Rather, you should expect that your business will hit some bumps along the way and that at least some of these might threaten the financial future of your business. Whether it is a hurricane that destroys your work truck or a pandemic that forces your business to shut down and lay off employees, you must expect the unexpected.
One part of expecting the unexpected is choosing and buying insurance coverage against the foreseeable problems your business might encounter.
Here is some information about insurance and the insurance industry that will help you answer the question, 'what insurance do I need to start a business?'
How Insurance Works
Originally, the theory behind insurance is based on statistics. You pay a premium to insure against a risk. For example, you want to insure your commercial vans against theft. The vans have a value that you need to recover to replace them if they are stolen. This is your insurance benefit.
The insurer calculates the premium based on the probability that your van could be stolen and the cost of the van. So, for example, suppose your van is worth $25,000 and your business is located in an area where the likelihood of a vehicle being stolen in any year is about 0.003%.
Multiplying the probability by the value of the loss gives an annual risk of about $75. This amount is, in a sense, a gamble. You pay the insurance company $75 per year to insure your van against theft. Most years, the insurer wins and keeps the $75. However, for 0,003% of van owners, the van is stolen and the van owner receives an insurance payout of $25,000 to replace a stolen van.
The key to making this work is for the insurance company to spread the risk of loss. For the insurance company to ensure that it makes money and does not go bankrupt when one of its customers has a vehicle stolen, the insurance company needs a lot of customers. This spreads the risk of loss across its entire customer base so that the insurer can offer a fair premium without risking its financial stability when a casualty occurs.
So, in the example above, the insurance company has 334 customers paying $75 per year for auto insurance coverage that pays a $25,000 benefit when a car is stolen. The insurer collects $25,050 in premiums every year. If one customer has a vehicle stolen, the insurer can pay the $25,000 benefit and still have $50 in profit at the end of the year.
Now, increase the number of customers and the amount of the premiums, and you can see the basics of how the insurance industry collects $1.32 trillion in premiums every year.
How Insurance Helps Businesses
Insurers help businesses in a few ways including:
Protecting against catastrophic losses: Insurance agencies can help businesses identify their risks and insure against them. For example, in some regions, the risk of weather-related catastrophes is high. In these areas, an insurer can write a policy that insures a business's office building against wind damage from a hurricane. By obtaining this policy, the business avoid having to pay for repairs if the building gets damaged by wind.
Complying with the law: Many businesses are subject to regulations that require insurance. For example, every state except Texas requires employers to buy workers compensation insurance. In most states, businesses have a choice where to buy their workers comp policy. But all employers in these states must have workers comp insurance whether on the private market or from the state workers comp fund.
Attracting talent: Unfortunately for workers, more and more businesses are finding ways of avoiding benefits for their employees. However, one benefit that most businesses must offer full-time employees is health insurance. Healthcare coverage can be a strong recruiting tool for businesses. Many potential employees pick jobs based on the health plan and having a good plan can give you an edge in recruiting the talent you need for your new business.
Finding Insurance
Most insurers that offer insurance products will write insurance policies for businesses. Well-known companies like State Farm, Liberty Mutual, Nationwide, The Hartford, and Travelers have extensive commercial divisions that sell insurance polices to businesses.
Moreover, most auto insurers who write policies for personal vehicles will also write polices for commercial vehicles. This includes:
Work trucks
Delivery vehicles
Interstate trucking vehicles
Taxis
Buses and other vehicles for passenger transportation
In many cases, insurance companies still use brokers to sell their insurance products for businesses. To find an affordable insurance broker, you should research the various insurers online and with colleagues to identify which companies offer the insurance products you need. Asking other business owners 'what insurance do I need to start a business?' allow you to learn from their experiences.
Once you have identified which insurers offer the insurance products you need, you should set aside some time to talk to brokers for those insurers. When it comes to business insurance, many brokers will tailor your policy to your needs. So be sure to have your concerns in mind when you speak to brokers.
What Insurance Do I Need to Start a Business and Remain Compliant?
Some forms of insurance are mandated by law or regulations. As discussed above, workers' compensation insurance is nearly universal in the U.S. In most states every business with at least one employee must have workers comp insurance.
This raises a few obvious questions, though. What if you are self-employed? Are you covered by workers' comp insurance?
In most states, workers' comp does not automatically cover the business owner. The business owner is not considered an employee even if the business owner works for the business performing work tasks. For example, a contractor who owns a roofing business and works as a roofer would not automatically be covered by the business's workers' compensation policy.
But some states allow owners to become covered under workers' compensation. In some states, owners can be added to the same workers' compensation policy as employees. In other states, owners are covered by a different type of workers' compensation policy. In a few states, owners have neither option and cannot be covered by workers' compensation.
Workers' compensation insurance is a very personalized policy. The premiums your business pays will depend on the type of work each worker performs, the salaries you pay, and your claims history. For a new business, an insurance company might use comparable businesses to calculate your premiums. But as your company grows or your business adds new fields of work, your insurance premium will probably change.
What Insurance Do I Need to Start a Business for Professionals?
Another type of insurance that some states and licensing boards mandate is malpractice insurance. In particular, if you are a lawyer, doctor, or dentist, you should check to see if you need malpractice insurance to open your business. Some licensing boards or states provide informational websites that answer the question, 'what insurance do I need to start a business?' But you may need to call your local licensing board to find out if you cannot get the information online.
Some states do not require malpractice insurance. In these states, your business has the option whether to purchase malpractice insurance. Just bear in mind that if your business does not buy malpractice insurance, and it is sued by a client or patient, your business could face a multimillion dollar judgment and tens of thousands of dollars in legal expenses. For those businesses with malpractice insurance, the insurer usually pays for the legal defense and covers any judgment or settlement up to the policy limits.
What Insurance Do I Need to Start a Business with Vehicles?
Yet another type of insurance required by both the U.S. government and states is vehicle insurance. All commercial vehicles must comply with state laws that require liability insurance. This insurance pays for injuries and property damage if the vehicle is involved in an accident.
Moreover, the federal government requires most motor carriers (semi-trucks, delivery trucks, and buses), to have a specified minimum amount of insurance to cover any liability claims. The minimum insurance these carriers must have is based on the capacity of the vehicle and the type of cargo it carries. For example, a large truck that carries hazardous waste will need more insurance than a small truck that carries non-hazardous waste.
What Insurance Do I Need to Start a Business to Protect It From Negligence Lawsuits?
Business liability policies protects your business in the event that someone files a negligence lawsuit or a product liability lawsuit against your business. Also called general business liability (GBL) policies, these require the insurer to pay for a legal defense and any judgment or settlement in the lawsuit.
GBL policies usually exclude vehicle accidents and professional liability because you can buy auto insurance and malpractice insurance as additional policies. Instead, GBL policies usually cover acts and omissions that you and your employees commit while running the business that might expose you to liability. Suppose an employee of your tree trimming business forgot to place cones on the sidewalk to warn people of falling branches. If someone is hit by a falling branch while your business is trimming the trees, that victim could sue your business for negligence.
GBL policies apply to your business's negligence, even if the act complained of was intentional. If your employee assaults a customer, the assault is an intentional act that could result in the arrest of your employee. But your business could also be sued for negligence in hiring that employee.
When buying a GBL policy, your insurer will usually exclude 'prior acts' from coverage. This means that the insurer will not be liable for acts or omissions committed before the date the policy went into effect. This is how insurers avoid becoming liable for the negligence of a prior owner when your new business resulted from buying a business that was already up and running before you bought it.
What Insurance Do I Need to Start a Business to Protect Business Property?
Business property insurance should be one of your answers to the question 'what insurance do I need to start a business?' Business property insurance protects your business from property losses. You can insure buildings, real estate, and personal property from theft, fire, vandalism, and other losses through a property insurance policy. If a building owned by your business is hit by a wildfire, and your building and computers inside suffer damage, you will file a claim under your property insurance policy.
Bear in mind that business property insurance is slightly different from homeowner's insurance. A homeowner's policy usually covers slip-and-fall accidents that guests might have in the home or property covered by the policy. Thus, if you slip on a friend's icy porch, your medical bills would be covered by your friend's homeowner's policy.
Business property insurance does not cover slip-and-falls in the business. Rather, these fall under the business's GBL policy. In most cases, property insurance for businesses only covers loss of the property and not accidents on the property.
Buying insurance protects your business from the losses that come with risks. Insurance is often costly, particularly when a business needs a health plan, GBL insurance, property insurance, commercial auto insurance, and, possibly, professional liability insurance. But the cost of not having insurance often outweighs the cost of getting it.
---